Description
7mm saum ammo overview
This is 7mm saum ammo great content
Remington's answer to Winchester's .300 Short Magnum is a .30 of their own–plus a 7mm. Officially designated as the Remington SA (for short action) Ultra Mag, it heralds the beginning of cartridges based on a shortened version of the Ultra Mag case.The rationale is of course the same as that which spawned Lazzeroni's Short Action Magnums and the .300 WSM; namely, cartridges that can ballistically match the now old-fashioned longer-bodied belted magnums, and do it with less powder and in short-action rifles.
In a side-by-side with the .300 WSM we find the Remington case to be 1⁄8-inch shorter in body and in overall length, and to have a 30- rather than a 35-degree shoulder. The result is a vessel of 7.5 percent less volume than the WSM. Nonetheless, Remington is claiming virtually the same nominal velocities for their short .30 as Winchester does for theirs, i.e., 2,960 fps for a 180 gr. bullet versus 2,970 for the WSM.How 'dey do 'dat? Well, it's the kind of smoke and mirrors thing that advertising and marketing guys are paid to come up with. We all know that, all other things equal, a case having 7.5 percent less volume shouldn't be able to match the larger one performance-wise. That's not an absolute, mind you, because funny things can happen when you increase case capacity to ludicrous proportions relative to bore diameter, but in this instance we're talking well-balanced cartridges of moderate (by today's standards), powder capacity.
Remington introduced the 7mm Short Action Ultra Magnum (SAUM) cartridge in 2002 to compete with the 7mm Winchester Short Magnum cartridge. It was designed specifically for the Remington Model Seven Magnum rifle, and intended primarily for long-range hunting use.
What is the maximum effective range of a 7mm  Saum ammo?
Maximum Effective Range Chart for All Rifle Cartridges
| Cartridge | Distance (yds) Bullet Drops Under 1,900 FPS | Max Effective Range with 1,000 ft-lbs |
| --- | --- | --- |
| 7 SAUM | 685 | 887 |
| .280 Remington | 630 | 842 |
| 7mm-08 Remington | 501 | 684 |
| 7mm Mauser | 435 | 616 |
Product Overview
For over 60 years, the professionals at Nosler have been making precision bullets for competitive shooters, varmint hunters and big game hunters.  Now they've taken Nosler premium hunting bullet technology and created a Custom line of premium ammunition with the use of new brass from popular brands from the reloading industry.
Loaded exclusively for MidwayUSA, Nosler Custom Ammunition is available in over 100 loads.  The brass is cut to the exact SAAMI specifications, chamfered, deburred and the flash holes are checked for proper alignment.   Primers are inspected and hand seated.   The powder is hand thrown and verified for consistency.  Finally the bullet is inspected and properly seated in exact alignment.
The entire loading process is personally hand-assembled by Nosler Ballisticians.  The finished round is equal to the best of handloads.   Loaded rounds are hand packaged in plastic ammo boxes with custom ballistic data printed in the label.  This ammunition is new-production, non-corrosive in boxer-primed, reloadable brass cases.
Note:    Some calibers may be loaded in commercial brass if Nosler brass is unavailable.
7mm saum ammo Specifications
Product Information
| | |
| --- | --- |
| Cartridge | 7mm Remington Short Action Ultra Magnum |
| Grain Weight | 140 Grains |
| Quantity | 20 Round |
| Muzzle Velocity | 3150 Feet Per Second |
| Muzzle Energy | 3084 Foot Pounds |
| Bullet Style | Bonded Polymer Tip |
| Bullet Brand And Model | Nosler AccuBond |
| Lead Free | No |
| Case Type | Brass |
| Primer | Boxer |
| Corrosive | No |
| Reloadable | Yes |
| G1 Ballistic Coefficient | 0.485 |
| Sectional Density | 0.248 |
| Velocity Rating | Supersonic |
Delivery Information
| | |
| --- | --- |
| Shipping Weight | 1.510 Pounds |
| DOT-Regulated | Yes |
7mm saum ammo history
The 7mm SAUM ammo was released in 2002 based on a shortened version of Remington's Ultra magnum case which is in turn based on the 404 Jeffery's case. The SAUM was designed to produce 7mm Remington Magnum performance from a much smaller cartridge case and more compact rifle configuration.
In 2002, the same year as the introduction of the 7mm SAUM, Winchester released their own short magnum, the 7mm WSM. The two competing cartridges were presented to the market but only one survived – the 7mm WSM. Not only was the WSM more popular with hunters, the cartridge was soon adopted by several rifle manufacturers, ensuring its continuation.
Case capacity of the SAUM is slightly less than the WSM, as is the factory COAL. Remington adopted these dimensions to enable their short magnum cartridges to fit into the compact Model 7 action. Factory barrel length of the Model 7 is 22″ as opposed to Winchester's short magnum barrels at 24".
The 7mm SAUM currently retains a small following. This cartridge, chambered in the model 7 rifle, is appreciated for its ability to produce high power from a small, ultra-light weight platform.
7mm saum ammo performance
The 7mm SAUM ammo does not achieve 7mm Remington Magnum velocities or performance. This cartridge duplicates the velocities of the .280 Remington.
Hand Loading 7mm saum ammo
The most suitable powders for hand loading the 7mm SAUM are those in the 4831, N165 range. Achievable velocities duplicate factory loads including 3150fps with 140 grain bullets, 2950fps with 150 grain bullets and 2850fps with 160-162 grain bullets.
References to bullet performance can be found in the .280 text of which the 7mmSAUM performs very similarly.
Closing Comments of 7mm saum amo
The differences between the 7mm SAUM and 7mm WSM in factory ammunition or hand loads average about 75fps in favor of the Winchester which is mostly relevant to the Winchester's 2" longer barrel. However it is perhaps moot to draw comparisons between the two because the design concept behind the 7mm SAUM Remington is to offer an effective medium game hunting cartridge in an extremely efficient carbine for hunters who require the minimum of bulk and weight.
Suggested loads: 7mm SAUM
Barrel length: 22″
No
ID
Sectional Density
Ballistic Coefficient
Observed  MV Fps
ME
Ft-lb's
1
FL
Rem 140gr Corelokt
.238
.409
3150
3084
2
HL
139gr SST/IB/AB
.246
.486
3150
3062
3
HL
154gr SST/IB
.273
.525
2900
2875
4
HL
160gr Partition
.283
.475
2850
2885
5
HL
162gr A-Max
.287
.625
2850
2921
Suggested sight settings and bullet paths
1
Yards
100
160
287
327
350
375
400
425
Bt. path
+3
+3.8
0
-3
-5.1
-7.8
-11
-14.5
2
Yards
100
165
294
335
350
375
400
425
Bt. path
+3
+3.9
0
-3
-4.3
-6.8
-9.7
12.9
3
Yards
100
150
265
305
325
350
375
400
Bt. path
+3
+3.6
0
-3
-4.8
-7.5
-10.6
-14.1
4
Yards
100
150
257
297
325
350
375
400
Bt. path
+3
+3.5
0
-3
-5.9
-8.8
-12.2
-16
5
Yards
100
150
264
305
325
350
375
400
Bt. path
+3
+3.6
0
-3
-4.9
-7.5
-10.6
-14
| | | | | |
| --- | --- | --- | --- | --- |
| No | At yards | 10mphXwind | Velocity | Ft-lb's |
| 1 | 300 | 6.6 | 2468 | 1893 |
| 2 | 300 | 5.4 | 2569 | 2036 |
| 3 | 300 | 5.6 | 2388 | 1949 |
| 4 | 300 | 6.4 | 2293 | 1868 |
| 5 | 300 | 4.7 | 2420 | 2107 |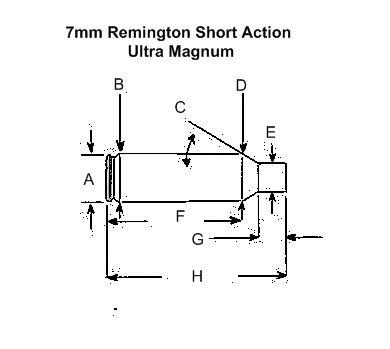 | | | |
| --- | --- | --- |
| | Imperial | Metric |
| A | .534 | 13.56 |
| B | .550 | 13.97 |
| C | 30deg | |
| D | .534 | 13.56 |
| E | .320 | 8.12 |
| F | 1.538 | 39.06 |
| G | .311 | 7.9 |
| H | 2.035 | 51.7 |
| Max Case | 2.035 | 51.7 |
| Trim length | 2.025 | 51.4 |